I graduated from the Art Institute of Seattle with an AAA in Apparel Design. I quickly landed a job on career day and was off-to-the-races designing and developing bags and apparel, flying from Seattle to Asia regularly and loving every minute of it. One job led to the next in the small Seattle athletic apparel companies that I felt so connected to. After about a decade, I started to feel stagnate, unchallenged and very, very far removed from the people wearing the yoga pants, running jackets, and mountaineering base layers I was designing. 
            I wanted to be closer to the end user of my designs.
            I wanted to feel excited about what I was creating, to grow and to be challenged. I wanted to be outside on those rare sunny Seattle days and have some say in what defined work hours and balance of life. I wanted something more than the cubical corporate world; and to set out on my own.
            It was a big risk, it was scary, but I believe that are best opportunities to grow are when we are the most uncomfortable.
            So, in 2006 I started my company, designHARMONY as a full-time freelance designer for apparel and interiors. Although my schooling was for apparel design the general concepts applied when transitioning into interiors. With that said, I jumped two feet into a completely new industry with little knowledge of where to start. It was thrilling at times and constantly overwhelming, but I got my wish, I was excited about design again.  Finally, I was challenged and learning every day. Learning so much in fact I often found it very hard to get some shuteye.
            One of my first big projects was for Zuzka + Peter who bought a home in Kirkland and wanted to take the traditional home and make it more modern and younger like them. At the time I was pregnant with my first child, they were working hard in their tech careers hoping for a family soon.
            In about 2010 I was designing about fifty percent interior design + fifty percent apparel/bags. I was newly married, working out of our home office when our son Holden arrived in 2011. One interior job led to the next, and the next, and quickly I was busy.  
            Very busy.
            Years later my son Holden and Zuzka + Peters oldest daughter were in the same grade attending the same school in Kirkland. It was so fun to grow with them and hear about how much they loved what we had done to their home! They eventually bought a different home a few blocks away in Kirkland and I was thrilled to hear from them and be asked back to help make their new modern home an even more functional and beautiful place for their now family of four! We are currently underway with construction to create a better home office for Zuzka and some finishing touches throughout. They are just like me, not afraid of color!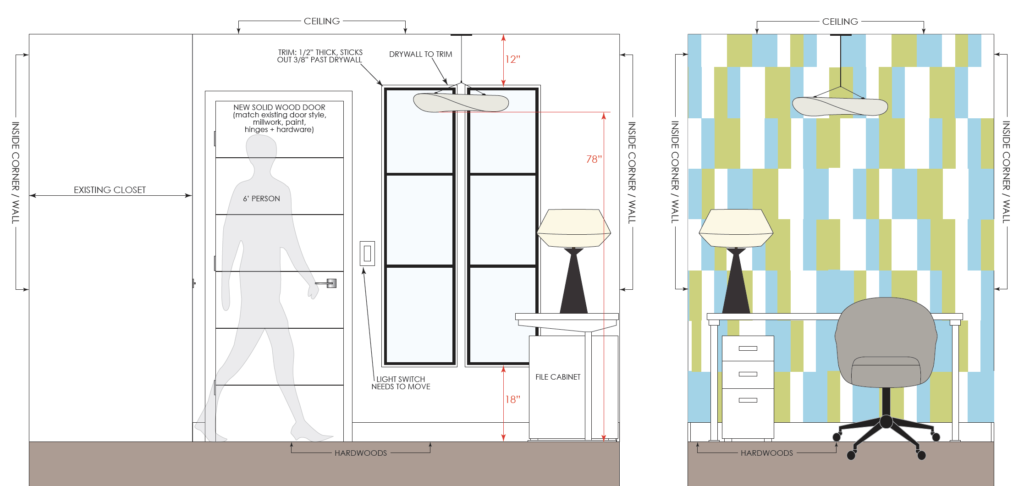 One of my very first paid interior jobs was for Chad + Tiffany. I had little to no professional experience in interiors as I was transitioning from apparel design. Chad is best friend to my brother-in-law and put in a good word for me. The first few projects I worked on with them was for their previous home in Redmond and they trusted my design expertise regardless of my experience in interior design. Soon they purchased a new home in Sammamish, although they loved it overall, they did not love the master bath carpet. I love a good before + after.